Starting the Timepiece Business
Banding Together to Develop a New Market

Starting the Timepiece Business
Banding Together to
Develop a New Market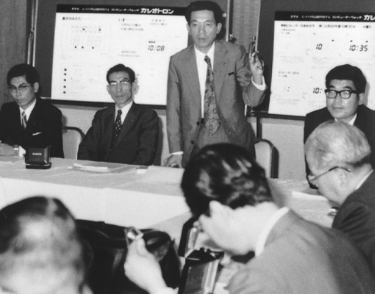 Toshio invents
the automatic calendar function

After increasing its sales dramatically with the hit Casio Mini, Casio was looking for opportunities to develop new businesses. Toshio, who was in charge of development, turned his attention toward watches.
"Watches simply add up seconds." This was Toshio's pet theory. In this sense, watches were a type of calculator, so the company could make use of its technologies to develop watches. However, Toshio thought the business would not succeed if they just sold ordinary digital watches. Thus, he invented the "automatic calendar" function, which would automatically display the correct date and day of the week by differentiating between months based on the number of days. It was the world's first function on a wristwatch.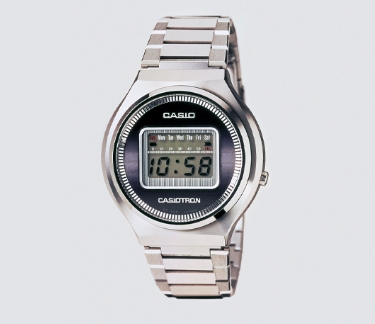 Objecting to warnings -
"I want to develop a new market"

In 1974, President Tadao visited a major watch manufacturer prior to the release of Casio's own wristwatch. The meeting between the heads of companies ended amicably.
A few days later, however, the president of the group the watch manufacturer visited Toshio and Yukio, telling them that they should leave watchmaking to the pros and that it was not too late to turn back. Toshio objected to this warning. "We don't intend to compete with watch manufacturers. We just want to develop innovative multifunctional watches using digital technologies." As with the Casio Mini, Toshio simply wanted to open up an entirely new market. In November of that year, Casio released the CASIOTRON digital watch.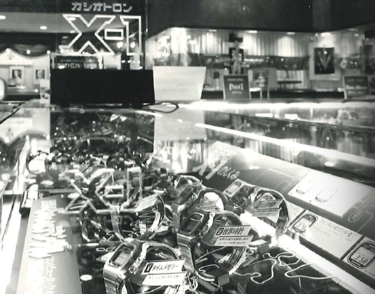 Tadao's and Kazuo's efforts lead to a successful entry into
the timepiece business

After entering the timepiece business, Casio faced some unexpected difficulties with procuring watch cases. Most metal case manufacturers supplied their products to other major watch manufacturers. They were worried that orders from their existing customers would stop if they did business with Casio. Tadao visited them in person to ask for their cooperation.
Establishing sales channels was also a very challenging task. At the time, most watches were sold in specialized shops. However, Casio asked the home electronics mass retailers and department stores it had cooperated with on the Casio Mini to sell its product. Kazuo's sales connections helped seal the deal.
Kazuo's foresight shines again

In 1983, Casio released the G-SHOCK. Although the product's concept, "shock resistance," did not garner much attention within the company, Kazuo was convinced it would sell. He approved its development.
The G-SHOCK became a hit not in Japan, but in the US. Thanks to the fact that its sturdiness was demonstrated in TV shows, it exploded in popularity and was "re-imported" back into Japan in the 1990s. It completely overturned the notion that watches would break if dropped.
By 2017, the number of G-SHOCK watches shipped worldwide had reached 100 million. This achievement could not have been realized without Kazuo's foresight.