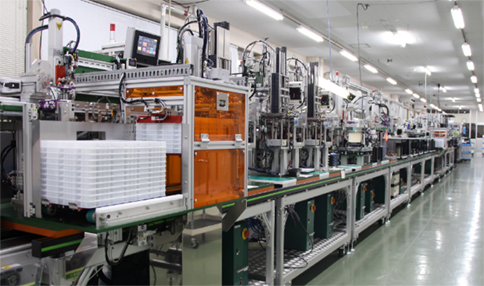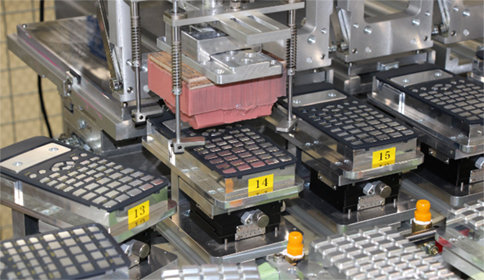 Automated assembly line for scientific calculators
TOKYO, August 31, 2020 — Casio Computer Co., Ltd. announced today that a mass production line for the automated assembly of scientific calculators will go into operation in early September at Yamagata Casio Co., Ltd., its manufacturing subsidiary in Japan.
To date, Casio has been manufacturing scientific calculators at plants outside Japan. In August 2017, under the guidance of the mother factory, Yamagata Casio, an automatic assembly line for scientific calculators went into operation at the Casio plant in Thailand. Robots were adopted to help assemble the calculator units. This eliminated a considerable amount of manual work and achieved a 50% automation rate. However, in order to further enhance the efficiency, stability and strength of its production system, Yamagata Casio continued to develop the advanced production technology needed to achieve even greater automation.
The new automatic assembly line at Yamagata Casio will increase the automation rate for the main-unit assembly process, while also achieving automation for the preceding process of mounting components on the circuit board and the subsequent process of packaging. An automation rate of 80% is expected across processes.
Based on the mass production results in Yamagata, Casio will then look to increase the automation rate for scientific calculator assembly in Thailand to 80%, while pursuing even greater improvements in terms of labor-saving and efficiency.
Background, and Model to be Produced
In recent years, Casio has been shipping about 23 million scientific calculators every year. Demand remains steady from year to year, mainly from students outside Japan who use the calculators in mathematics classes and examinations. Furthermore, scientific calculators are expected to become more popular in regions such as Southeast Asia with growing education markets. Scientific calculators are one of the core products in the growth businesses at Casio. Yamagata Casio's new production line will be used to make a standard scientific calculator model, ClassWiz. In addition to showing numerical values and function calculation formulas, its high-definition LCD screen can display frequency distribution tables and histograms, as well as text in various languages, according to the market.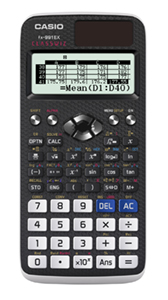 Profile of Yamagata Casio Co., Ltd. (as of April 1, 2020)
| | |
| --- | --- |
| Head office location | 5400-1 Higashine-ko, Higashine-city, Yamagata, Japan |
| President & CEO | FUKUSHI Takumi |
| Capital | 1.5 billion yen |
| Established | October 1979 |
| Number of employees | 614 |
Casio Group Main Production Sites
| Company name | Head office location | Main products |
| --- | --- | --- |
| Yamagata Casio Co., Ltd. | Higashine-city, Yamagata | Timepieces, calculators, data projectors, handheld terminals |
| Casio (Thailand) Co., Ltd. | Nakhonratchasima, Thailand | Timepieces, calculators |
| Casio Electronic Technology (Zhongshan) Co., Ltd. | Guangdong, China | Calculators, electronic dictionaries, electronic musical instruments |
| Casio Electronics (Shaoguan) Co., Ltd. | Guangdong, China | Timepieces |
| Casio Timepiece (Dongguan) Co., Ltd. | Guangdong, China | Timepiece components |
---