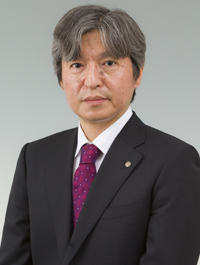 Kazuhiro Kashio, President & CEO
Linking Casio Technologies to Focus Markets with Maximum Efficiency to Grow Our Business
│Business Results for the First Half of Fiscal 2019
Consolidated net sales for the first half of fiscal 2019 fell 5.5% year on year, although operating profit increased 1.0% year on year, and profit attributable to owners of parent rose 11.6%. In the first half of fiscal 2019, during which we moved in top gear to further propel the structural reform that we have been working on since fiscal 2018, the timepiece business recorded sales and profit growth as new full metal products continued to perform well. In addition, we embarked on streamlining production, including the establishment of a new plant and going live with an automated assembly line at Yamagata Casio, in order to reinforce the corporate structure so as to secure sustainable growth. The education products business saw lower sales but higher profits, while the system equipment business recorded a decline in sales and profit. Overall, Casio was able to deliver profit growth due to the strong performance of the timepiece business, improvements in the earnings structure, and our pursuit of cost efficiency.
│Priority Strategies for the Future in the Second Half
In the second half of fiscal 2019, we will further accelerate our structural reform and growth strategy to establish a stable, sustainable earnings base.
 
Structural Reform
In April 2018, we changed our previous structure based on individual businesses and established the Business Strategy Headquarters, the Product Development Headquarters, and the Global Marketing Headquarters, implementing organizational reform in order to reconnect Casio's technologies with markets. In addition to this new structure, we also worked on a review of investment based on exhaustive cost-benefit verification, reform of workstyle and corporate culture, and other measures in order to promote full-scale company-wide structural reform. As a result of these efforts, in the electronic musical instrument business, we reduced our product line up, reconstructed our sales network, and revamped our production system, including automation, achieving significant improvement in profitability.
In the second half of the fiscal year, we will further step up the pace of this structural reform to increase cost efficiency in the existing value chain while also creating new business mechanisms and pursuing further growth.


Growth Strategy
Casio will accelerate business expansion in the timepiece business and education products business, which already have strong business models, further promoting higher profitability. In addition, we will work to create new businesses that will serve as the core businesses of the future.
In the timepiece business, which is Casio's biggest core business, we will work to enhance the overall presence of the Casio brand in the fashion watch market by effectively leveraging the strength of the G-SHOCK brand and our unique know-how. Casio will also place greater emphasis on the rapidly emerging smartwatch, looking to create new markets by taking advantage of the technology it possesses as the only watchmaker that also has experience with smartphones.

In the education products business, where we have established the GAKUHAN business model, we will expand school sales of scientific calculators, which produce consistent and stable profits, in regions and fields that are yet to be developed. Furthermore, we will leverage the know-how regarding educational institutions that we have cultivated in our scientific calculators business to respond rapidly to the changing times and the evolving needs of schools and colleges. For instance, we will develop an online applications business in the test and textbook market, which is going through a transition from paper to electronic formats.

Meanwhile, to create new businesses, we will identify all Casio technologies and specify markets that require those technologies. We will introduce all the technologies that can be utilized into the appropriate markets and engage in co-creation with partners as necessary to create useful products.

For example, the technologies and know-how we cultivated over many years in the development of digital cameras are beginning to create new markets. These markets include a licensing business based on provision of technology and image diagnosis support systems for skin cancer among other areas. Engaging in co-creation with top-class partners in each sector, Casio will pursue expansion into markets where its digital camera technology is needed.

With the 2.5D print system, one of our new businesses, we will thoroughly analyze the needs of customers in the automotive, building materials, furniture and apparel markets and formulate a strong business model that leverages the shorter lead times, designability, and cost reductions this product delivers.
Based on its policy of performance-linked shareholder returns, Casio will be certain to pursue the strengthening of management structure. The company's basic policy is to provide stable dividends for shareholders, and Casio will pay an interim dividend of ¥20 per share in fiscal 2019. Going forward, Casio will do its utmost to reform management to meet the expectations of shareholders.