Medium-Term Priority Strategies for Sustainability
Medium-term priority strategies for sustainability (fiscal 2021-2022)
Casio achieved the results described below in fiscal 2022, the final year of its medium-term priority strategies for the environment (E) and society (S) for fiscal 2021 and fiscal 2022, set out in fiscal 2021. Casio intends to identify the next medium-term priority strategies in conjunction with the New CASIO C30 Project, which is designed to maximize corporate value in fiscal 2031.
│Medium-term priority strategies (fiscal 2021-2022)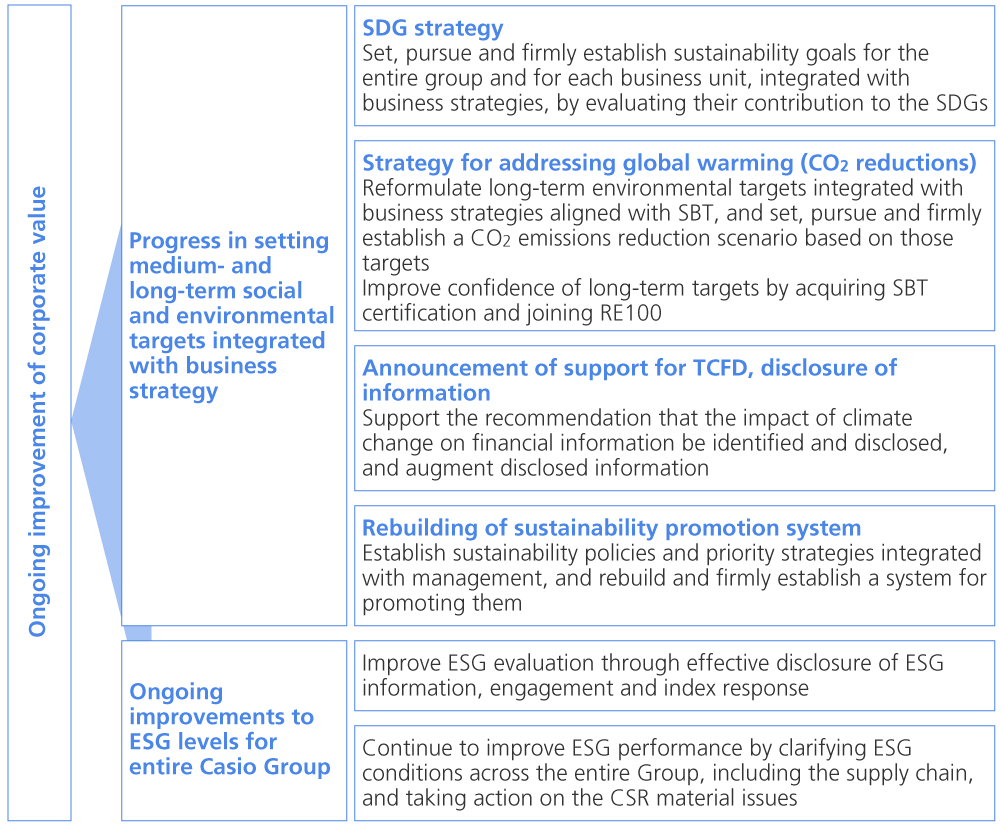 Performance in fiscal 2022 on the above-described medium-term priority strategies is shown below.
Priority
Issues to pursue
KPI (FY2022 goals)
Performance made in FY2022
Progress in setting medium- and long-term social and environmental targets integrated with business strategy
SDG strategy
Set, pursue and firmly establish sustainability goals for the entire group and for each business unit, integrated with business strategies, by evaluating their contribution to the SDGs
Sustainability goals for the entire group and for each BU that are integrated with the business strategy established, and the first phase completed
Results evaluated based on the KPI and used to set targets for the next phase

Reviewed the medium-term business plans for each business and functional headquarters, upon which the medium-term sustainability goals are based. Also arranged SDGs embraced by Casio in the following areas: contributing to social issues through business; and reducing the environmental impact through business.

Since the COVID-19 pandemic forced revisions of these medium-term business plans, evaluations based on KPIs were suspended. Going forward, they will be restarted together with the new medium-term business plans based on the CASIO C30 Project.

 

 

Strategy for addressing global warming (CO2 reductions)
Reformulate long-term environmental targets integrated with business strategies aligned with SBT, and set, pursue and firmly establish a CO2 emissions reduction scenario based on those targets
Improve confidence of long-term targets by acquiring SBT certification and joining RE100
Long-term environmental targets based on new SBT standards set, and a CO2 reduction scenario based on this devised
SBT certification completed, RE100 initiative joined and renewable energy adoption policies established for entire Group

Enhanced Casio's medium- and long-term greenhouse gas reduction targets to conform to with SBT's new standards in October 2020, as shown below, and submitted them to the SBTi to request validation that these targets are based on scientific evidence.

As a result, received validation from SBTi that the Casio FY2031 targets are aligned with the scientific evidence-based goal of limiting global warming to well below 2°C.

Casio Greenhouse Gas Reduction Targets Validated by SBTi

New Enhanced Greenhouse Gas Reduction Targets:

■ Scopes 1 & 2
・38% reduction by FY2031, compared to FY2019
・Net zero emissions by FY2051

■ Scope 3
・30% reduction of greenhouse gas emissions from the use of purchased goods and services (category 1) and use of sold products (category 11) by FY2031, compared to FY2019

To achieve this goal, Casio switched six of its major business sites in Japan to electricity derived from renewable energy sources.

Announcement of support for TCFD, disclosure of information
Support the recommendation that the impact of climate change on financial information be identified and disclosed, and augment disclosed information
Support for TCFD announced and disclosure in line with its requirements augmented

In addition to enhancing greenhouse gas reduction targets to conform to with the new SBTi standards, also announced support for the recommendations of the Task Force on Climate-related Financial Disclosures (TCFD) and disclosed relevant financial information.

Casio analyzed risks and opportunities associated with climate change in its four core businesses of timepieces, education, electronic musical instruments, and system equipment, and worked to enhance information disclosure. The results were disclosed immediately.

Information Disclosure Based on TCFD Recommendations

Analysis and Disclosure of Climate Change Risks and Opportunities Based on the TCFD Recommendations

Rebuilding of sustainability promotion system
Establish sustainability policies and priority strategies integrated with management, and rebuild and firmly establish a system for promoting them
A Sustainability Committee under the board of directors formed to discuss policies and strategies; in addition, by meeting in line with the PDCA cycle, measures reliably promoted
The Sustainability Committee is positioned between the board of directors and the Management Committee. It is chaired by the director in charge of ESG strategy, and its members include the CFO, CHRO, leaders of each business, and officers in charge of staff divisions. The committee began making concrete deliberations in FY2021. Key issues relating to sustainability are discussed by officers in the committee, the results of deliberations are reported to the board of directors and are then put into practice following necessary procedures.
Ongoing improvements to ESG levels for entire Casio Group
Improve ESG evaluation through effective disclosure of ESG information, engagement and index response
Effective response to key indices such as FTSE, MSCI and DJSI continued, reselected for DJSI WORLD index, stayed on FTSE and MSCI and remained in a position to be selected for ESG investment

A considerably updated integrated report was issued in FY2021 and was selected as one of the "most-improved integrated reports" by the GPIF.

In addition, Casio is continuing to update its sustainability report with the improvement of access to published information. Casio will continue to review aspects such as the report structure, with the aim of creating reports that are even more easily understandable. For details on the adoption of ESG indices, refer to External Evaluation.

Continue to improve ESG performance by clarifying ESG conditions across the entire Group, including the supply chain, and taking action on the CSR material issues
In light of progress with materiality through FY2021, the next materiality promotion plan established, and results evaluated based on KPI

To clarify ESG conditions in the supply chain, the Production Headquarters responsible for procurement  is working to enhance the content of the annually-conducted supplier CSR surveys.

In FY2022, Casio conducted surveys of its suppliers outside Japan concerning greenhouse gas emissions and the setting of reduction targets, as it already did in Japan.
Casio's Sustainability Concept