Living in Harmony with Nature

The international community agreed to the Aichi Biodiversity Targets at CBD/COP10 in 2010, seeking to halt the global deterioration of biodiversity, and various efforts were made around the world through the target year of 2020. Unfortunately, the consensus today is that almost none of the targets were achieved.
Based on the above conclusion, the international community is developing a TNFD framework that requires companies to disclose nature-related risks and opportunities in order to leverage funding markets  for corporate activities to halt biodiversity deterioration.
Despite the benefits people receive from ecosystems on a daily basis, such as water, air, and food, it is difficult to notice the ongoing degradation of these ecosystems. People often do not see biodiversity as an issue relevant to their own lives. One reason for this is that in many cases, the places where the ecosystems that produce the benefits exist are located far from the urban areas where the majority live.
For this reason, people need to view biodiversity issues intentionally as problems in which everyone is involved. When making decisions or taking actions in business and various day-to-day settings, it must become second nature to consider the impacts on biodiversity. In other words, biodiversity concern must be "mainstreamed."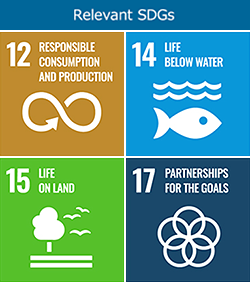 │Importance for the Casio Group
Casio's main manufacturing process is the assembly of final products. Most of the raw materials and component devices used in its products are purchased from suppliers outside the Group or manufactured on contract. For this reason, the risk that the Group's operations will directly impact biodiversity is limited. Biodiversity risks in the supply chain outside the Group, on the other hand, are another matter. If problems were to occur in the supply chain, they would represent a risk to Casio's procurement of raw materials and devices, because Casio cannot directly control them, since they occurred outside the Group.
In addition, the issue of ocean plastic waste, which has been the focus of much attention in recent years, has not had a significant direct impact on Casio because most of its main products are durable consumer goods. However, we use single-use plastic materials to maintain the quality of our products, and if laws and regulations are tightened, there is a risk that the plastic materials we have been using will no longer be available.
Meanwhile, Casio sells the G-SHOCK and Baby-G watch brands, which stand up to use in harsh natural environments, as well as the PROTREK watch brand, which is equipped with sensors that are useful in outdoor activities. With these brands, Casio has worked with environmental organizations for many years to produce collaborative products every year, giving a boost to their environmental protection activities and raising awareness of these organizations. While indirect, this is nevertheless a contribution of our core business to mainstreaming the social issue of biodiversity, and it is also an effective opportunity for Casio to improve its brand strength in the market and differentiate itself from its competitors.
In March 2011, Casio formulated the Casio Group Biodiversity Guidelines. In the 10 years that have passed since then, international demands regarding biodiversity have changed. This change is due to the international failure to achieve the Aichi Biodiversity Targets as mentioned above, the problem of ocean plastic pollution, and the outbreak of the COVID-19 pandemic, seen as a disease transmissible between animals and humans, among other factors.
It is expected that responses to these issues will be presented as future international goals in the post-2020 Biodiversity Framework to be adopted at the 15th Conference of the Parties (COP15) to the Convention on Biological Diversity (CBD), which has been postponed to December 2022. With a firm grasp of these international trends, Casio plans to reassess its medium- and long-term policies and targets, including these guidelines, through 2024.
Casio Group Biodiversity Guidelines
Basic Policy
The Casio Group recognizes that its existence and business activities depend on the benefits afforded by biodiversity, and that these activities also have an impact on biodiversity. Casio emphasizes biodiversity preservation activities as well as efforts to fight climate change. By including biodiversity preservation in environmental management and creating a system for implementation, the Casio Group is working to build a more sustainable world.
Specific Initiatives
1. Business Activities:
Casio will help to build a more sustainable world by creating and providing products and services that encourage consumers to care more about the environment. This will be done by learning from nature and developing technologies that utilize this wisdom.
Facilitating a paperless society
Contributing to resource saving by developing original technology
Developing products with care for nature
2.Impact Assessment:
Casio will survey and analyze its impact on biodiversity through activities including R&D, design, procurement, manufacturing, logistics, sales, product use, disposal, and recycling, and at its office and plant locations. It will establish improvement measures and implement them starting with areas of highest environmental impact and benefit.
Actively taking initiatives for proper procurement of parts (leather, wood, paper, etc.) and materials (mineral resources, etc.) that depend on ecosystem services.
Conducting questionnaire surveys across the supply chain in order to check ecosystem protection efforts for parts and materials that make up products.
Establishing impact assessment methods (checklists and indices) for the Casio Group
3. Information Disclosure:
Casio will strive to improve social awareness of biodiversity, by actively disclosing the results of its environmental activities.
4. Community Involvement:
Casio will actively support activities that contribute to biodiversity preservation by NPOs and NGOs, government agencies, and local citizens.
5. Full Employee Participation:
Casio is aiming for activities that involve the participation of all employees, by increasing understanding of biodiversity preservation, and training employees to act on their own initiative.
Casio Group Paper Procurement Policy
Purpose: To preserve biodiversity by protecting and sustainably using the forest resources which provide the raw material for paper.
Scope: All paper products procured by the Casio Group worldwide
Policy: Casio will procure paper for use in its business activities according to the following standards:
Paper must be made from trees harvested in accordance with the laws and regulations governing the logging area concerned.
Products must not come from companies that are destroying any forest with high conservation value or that are a source of serious environmental or social issues.
Priority must be given to reliable certified paper or recycled paper.
Evaluation ◎: All targets met ○ : Most targets met △ : Remaining issues outweigh results × : No progress made
Theme
Medium and long-term targets
FY2022 Targets
FY2022 Performance
Evaluation
FY2023 Targets
Living in harmony with nature
Increase the use of sustainable paper to 100% by FY2031
Ensure that 80% of product catalog paper used in Japan is paper from certified forests
70.4%
△
Examine re-setting of  medium and long-term targets
Continue to re-examine medium and long-term targets, including the definition of sustainable paper
Collected and analyzed world trends
△
Regarding fiscal 2022 circumstances related to medium- and long-term targets, user needs for types of product catalogs that are distributed for free at stores and other locations have greatly changed due to the COVID-19 pandemic. Numerical values continue to be calculated, but the actual contents of the medium- and long-term targets will be reevaluated.
In 2015, Casio identified three environmentally material issues. To address one of these, "Living in harmony with nature," the third environmentally material issue, Casio established the "M3 committee," which is an objective of the ISO 14001 environmental management system, in 2017. The M3 committee is driving Casio's adoption of paper from certified forests for product catalogues used in Japan. It conducted a biodiversity survey of Casio's main business sites in Japan, leading to the discovery of rare plants already growing on the company's property, species found on the Red Lists published by Japan's Ministry of the Environment. To promote the mainstreaming of biodiversity from within the company, the M3 committee carry out conservation activities emphasized employee volunteerism such as protection teams for these rare plants and the Casio Forest.
With growing public expectations for Casio to show leadership on social issues through its business activities, Casio will strive to further link its efforts for mainstreaming biodiversity to the core operations of its business divisions, carry out an education campaign (WILD MIND GO! GO!) to encourage biodiversity mainstreaming outside of the company, and further expand and strengthen initiatives that promote grassroots volunteerism among employees.