Company History
Product History
1980s
 

February 1980

C-80 wristwatch with built-in calculator released

 
 

August 1980

MG-880 game calculator released

 

January 1981

Automated calculator production line goes into operation at the Kofu plant

 
 

November 1981

First Casio World Open Golf Tournament held

 
 
 

August 1982

PB-100 pocket computer released

 

November 1982

AQ-500 analog watch (combination type) released

 

December 1982

Establishment of Casio Science Promotion Foundation approved

 
 
 

April 1983

PT-50 electronic keyboard with ROM pack released

 
 

May 1983

PF-3000, the first databank, released

 
 

 

May 1983

DT-100 mobile terminal for business use released

 
 

November 1983

Film Card SL-800, a credit-card size calculator only 0.8mm thick, released

 

January 1984

CD-40 databank watch that could store phone numbers released

 
 

July 1984

Casio Electronic Manufacturing Co., Ltd. established in Shinjuku, Tokyo

 
 

August 1984

DB-1000 databank watch that could recognize handwritten words released

 

 

October 1984

PV-7, MSX-standard home PC, released

 
 
 
 

March 1985

Aichi Casio Co., Ltd., a production company, established in Komaki City, Aichi (Operations commenced in October 1985)

 

March 1985

PELA FS-10 super-thin digital watch released

 

April 1985

Factory automation (FA) plant for calculators constructed at the Kofu Product Control and Technical Center

 
 

April 1985

LCS-2400 liquid-crystal shutter printer released

 
 

May 1985

TV-1000 pocket-sized LCD TV released

 

July 1985

HW-100 personal Japanese word processor released

 

August 1985

Office opened in Beijing, China

 
 
 

February 1986

Data-Cal, new calculator with text processing capability, released

 
 

February 1986

AQ-5 analog watch with plastic gears released

 

March 1986

Sampletone SK-1, an electronic musical instrument able to sample any sound source, released

 

July 1987

Casio Micronics Co., Ltd., established in Ome City, Tokyo

 
 

July 1987

DK-1000 digital diary, able to display kanji characters and boasting notebook, dictionary and calculator functions, released

 
 

August 1987

HW-7 handy print-anywhere word-processor released

 

August 1987

DG-10/20 and MG-500/510 electronic guitars with a full selection of tones released

 

September 1987

VF-3000 portable VCR with LCD TV released

 

September 1987

DA-1 portable DAT released

 

October 1987

Casio Korea Co., Ltd., a production company, established in South Korea (Operations commenced in August 1988)

 

October 1987

Deliveries of NP-100 pagers begun to Tokyo Telemessage

 

November 1987

VS-101 electronic still camera released

 

February 1988

CP-100 handy copier for making copies anywhere released

 
 

February 1988

PG-380 guitar with built-in synthesizer sound released

 
 
 

June 1988

Casio Manufacturing Corporation established in San Diego, U.S.

 
 

August 1988

Casio Electromex Corporation established in Tijuana, Mexico

 
 

 

September 1988

Kazuo Kashio becomes president

 
 

February 1989

BM-100WJ digital watch with weather prediction sensors released

 

April 1989

ADPS R1 office information processing device requiring no user program released

 
January 1980
Casiotone 201 keyboard
Made it possible to play the sounds of various instruments on a keyboard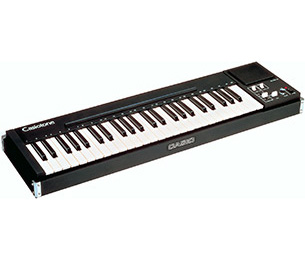 Casio's electronic musical instrument business began with the electronic keyboard, Casiotone 201. Toshio Kashio, who liked music, thought it would be wonderful to reproduce the beautiful sounds of instruments that are difficult to play, such as the violin, guitar or shakuhachi, using his own hands. In order to make his dream a reality, Toshio developed an unprecedented sound generation system using an approach known as vowel-consonant synthesis. His idea was that sound is basically composed of elements comparable to the consonants and vowels of human speech, and he realized he could combine these two while making subtle changes to create a single sound. As a result, he succeeded in recreating 29 sounds such as piano, cembalo, organ and other keyboard instruments, as well as string instruments such as the harp and koto, and wind instruments like the trumpet and trombone. Previously, the only way to produce the sounds of various instruments had been to learn to play them. With the Casiotone 201, however, anyone could recreate the sounds of these instruments in a natural and pleasing way, using a familiar piano keyboard. This was the starting point of electronic musical instrument development at Casio, which aims to make it easy for anyone to enjoy performing music.
October 1981
TR-2000 English-Japanese electronic dictionary
A frequently used, easy reference tool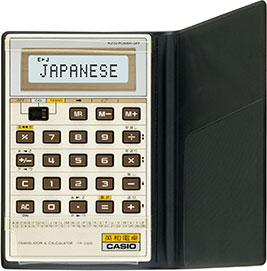 The TR-2000 was Casio's first electronic dictionary equipped with English-Japanese and Japanese-English dictionaries and a calculation function. Released in 1981, the TR-2000 had a battery life of up to about 388 hours, and weighed just 53 grams, including batteries. It was equipped with a newly developed large-capacity C-MOS LSI (196 KB/chip), and contained 2,020 English words and phrases, and 1,976 Japanese words. The development of a unique search algorithm enabled high-speed search, which significantly reduced the time to switch between the two languages. Also, by simply sliding a switch, it could also be used as an eight-digit calculator fully equipped with practical calculation functions. The display made it easy to read both English and Japanese text thanks to the adoption of a dot matrix LCD instead of a segment display. It became the new de facto standard that learners reached for when they wanted to look something up or find out the meaning of a word. Business professionals and students carried them in their bags.
November 1981
Casiotone 701 keyboard
Melody Guide enabled people to play music without reading a score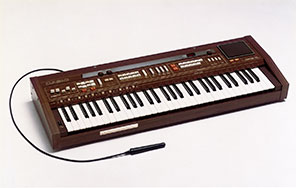 The Casiotone 701 was developed to meet the needs of beginners who wanted to enjoy playing music without having to learn to read it first. Its most remarkable feature was that it could read and store music electronically. This keyboard was the first musical instrument in the world to be equipped with a bar code reader, which was used to read the bar code printed on specially prepared sheet music and save the score in the device. It also had other innovative features not found in conventional musical instruments. It included a Melody Guide function that used built-in LEDs above each key to show the player which key to press next, an automatic performance feature that could play stored songs automatically and allowed one person to sound like an ensemble, and a one-key play feature that enabled people to play chords with just one finger. The Casiotone 701 offered new music playing options not only for beginners, but also for intermediates who had given up because they could not read music. In 1994, the ML-1 was released — the entire key would light up to show the user what to play next. Casio's desire to allow everyone to easily play a musical instrument was passed down.
April 1983
G-SHOCK DW-5000C
Shock resistant watch overturned the accepted notion of a watch by providing the new value of "toughness"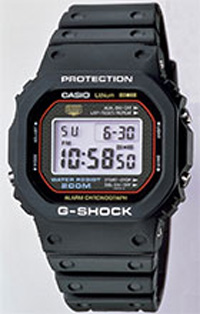 Before G-SHOCK arrived, watches were sensitive instruments that required careful handling. With the release of the DW-5000C, however, Casio overturned that accepted notion, creating new value in the form of a tough, hard-to-break watch. It featured shock and vibration resistance and accurately kept time under various adverse conditions. The watch case was reinforced with a urethane bezel that securely protected the glass and buttons, while the module and other important components inside the watch were also cushioned with shock-absorbing material. Any external impact was mitigated by a total of five protective layers. It also employed a hollow structure to support the module as if it were floating in the case, minimizing impact transmission. The DW-5000C was water resistant to 200 meters. Its performance was praised by firefighters working in harsh conditions, and young people liked having a watch that could be worn without worry while skateboarding. By the mid-1990s, G-SHOCK had become a popular fashion piece for young people. In order to further expand its customer base, Casio then developed the G-SHOCK MRG-100 with full metal watch specifications to appeal to more mature customers. While adhering to the quality of "toughness," G-SHOCK has continued to evolve in terms of materials and construction. In August 2017, the G-SHOCK brand reached the milestone of 100 million units shipped worldwide. The value offered by the DW-5000C, as a new kind of watch that was tough and difficult to break, continues to be appreciated by countless customers today.
June 1983
TV-10 pocket-type LCD TV
Enabled people to watch TV anytime, anywhere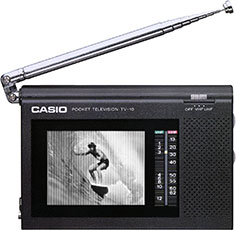 The TV-10 became the world's smallest pocket-type LCD TV in 1983. Televisions had been the king of home appliances since the start of terrestrial TV broadcasting in Japan. However the biggest drawback was that TV could usually only be enjoyed in certain indoor locations. By the 1980s, there were already portable TVs with antennas, but they were not practical due to weight and battery issues. TV-10 was equipped with a newly developed liquid crystal display and high-brightness EL backlight. With a weight of just 335 grams, it was so compact that it could be carried in a pocket. By also offering a choice of four power options, including dry batteries and household power supply, which could be changed according to the situation, users could watch their favorite programs without having to be at certain place at a certain time. Then, in 1992, the CV-1 was released, becoming the world's smallest and lightest color LCD TV. It featured a TFT liquid crystal display with clear contrast and was small enough to fit in a breast pocket. During an era when television was the major source of information and entertainment, this product fulfilled the dreams of people who wanted to watch TV anytime, anywhere.
November 1984
CZ-101 and CZ-1000 digital synthesizers
PD Sound Source brought the joy of creating music to even more people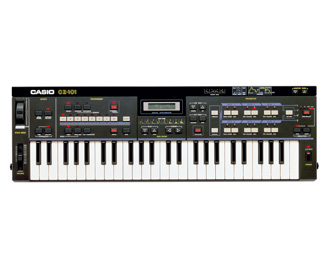 The CZ-101 was a digital synthesizer that could easily create a wide array of sounds. In 1984, synthesizers were used for a variety of music, but they were difficult to operate and expensive, so they were played only by very few musicians and enthusiasts. The CZ-101 employed a newly developed Phase Distortion (PD) Sound Source format. This generated waveforms by distorting the phase (a value indicating the position in the change process) of a sine wave (a curve with periodic oscillation) in various ways. Combining these waveforms made it easy to create many sounds. By employing a small keyboard with 49 keys and a compact appearance, Casio made it easier for musicians to enjoy playing the synthesizer. In 1985, the year after its launch, Casio released the sampling keyboard SK-1. This product made it easy to reproduce various everyday sounds, such as a voice or falling rain, as sound sources, without the need for an expensive sampling machine. Synthesizers and keyboards are different types of instruments, but Casio's aspiration to allow more people to enjoy the fun of creating sounds remained the same.
November 1984
DT-6000 handheld terminal
Made work outside the office easy and efficient
The DT-6000 handheld terminal was a business data processing device that could be held in one hand. A portable data terminal, DT-100, was released by Casio in 1983, one year prior. However, it was A4 size and weighed 1.45 kilograms. With the DT-6000, the width was reduced to about half and the weight to less than a kilogram (860 grams including the printer and battery). By reducing the device size and weight, Casio succeeded in lightening the burden of data input outside the office, while greatly expanding the scope of use. The RAM card format also made it possible to change the operation information just by replacing the program. Data could be exported and utilized. In addition to being able to reference data, the DT-6000 enabled payment processing at the customer site, while order and delivery processing could also be completed on the spot, including data input, recording, storage and transmission. By employing a sheet keyboard format, the device made it possible to enter product names and other information in Japanese or English script, instead of using complicated code numbers. The DT-6000 supported the efficiency of operations outside the office in all types of industries.
August 1985
The fx-7000G, the world's first graphing scientific calculator
Made it easy to understand difficult mathematical expressions at a glance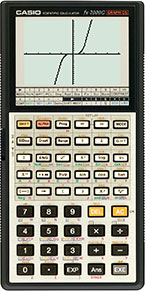 The fx-7000G was the world's first graphing scientific calculator, which allowed users to understand difficult mathematical expressions visually. Until then, even if you used a scientific or programmable calculator, its role was limited to calculation, and graphing was typically done by hand. The fx-7000G had a large 96 by 64 dot liquid crystal display and was equipped with a function graphing feature. This made it possible to visualize functional expressions that are difficult to understand with only numerical values, such as the slopes of linear equations and the curves of quadratic and cubic equations. The fx-7000G has been recognized for its contribution to mathematics education in the United States and is in the collection of the Smithsonian. In addition, Casio has also been pursuing ease of use for its other scientific calculators without graphing features. The scientific calculator fx-82ES, released in 2004, aims to help students gain a deeper understanding of mathematics and physics. It features a "natural display" that displays mathematical expressions such as fractions and square roots (√) in the same way as in printed materials. It became popular with students because it enabled them to use formulas written in the same way as in their textbooks.
April 1988
DH-100 digital horn
Made it easy for beginners to have fun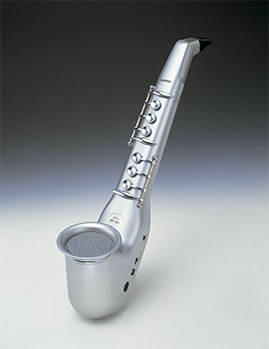 The Digital Horn DH-100 was an electronic wind instrument that let users easily recreate the sound of a wind instrument just by blowing into it. Playing a wind instrument such as saxophone or trumpet requires sophisticated technique such as vibrating the lips, and it requires a lot of practice before the player can make a proper sound. This difficulty was eliminated by the Digital Horn, which enabled the user to produce the proper sound just by blowing into it. In addition to the saxophone and trumpet, customers could also easily produce the sound of the synth reed, oboe, clarinet, and flute. Furthermore, the volume and sound quality could be controlled by the strength of the breath, allowing users to play with the expression unique to wind instruments. The keys were designed to make it feel like playing a wind instrument. For example, it employed the same finger positions as the recorder taught in Japanese elementary schools. With the release of the digital guitars DG-10 and DG-20 in 1987, the aim of the Casio development team remained the same — to further popularize electronic musical instruments and increase the number of musicians.
September 1988
Pocket Word PW-1000 pocket-sized word processo
Featured specialized character input methods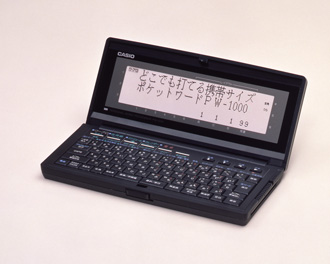 The Pocket Word PW-1000 was a very small personal word processor that could be used easily on the go. In the late 1980s, word processors were being purchased in Japan for the purpose of preparing beautiful documents, and the typing, editing and printing could all be done with one device. As each manufacturer competed to improve editing functions and offer larger screens, Japanese word processors began to get larger and larger. In order to shake up the market, Casio released the compact PW-1000 designed just for text input. There was no floppy disk drive for document storage, and the printer was sold separately. As a compact word processor that could be connected with a desktop word processor, portability was enhanced, and it was small enough to fit into a pocket. Casio had released its first business word processor, the WP-1, in 1981. In addition to a kanji selection method that followed that of Japanese typewriters of the time, the WP-1 offered several other character input methods including a kanji conversion method using kana character input. The result was a business word processor that could be used not only by professional Japanese typists, but also by a wide range of other people. In 1985, Casio released the Word HW-100, its first personal word processor. At that time, kanji conversion could usually only be done by inputting one short phrase at a time. However, the HW-100 offered a method of performing sequential kanji conversion after inputting sentences up to 84 kana characters at once. Casio had advanced its word processor technology to improve usability.