Company History
Product History
2000s
 

March 2000

WMP-1V Wrist Audio Player, a wristwatch-style MP3 player, released

 
 

June 2000

Montres Casio France S.A., a timepiece sales company, established

 
 

June 2000

WQV-1 Wrist Camera, a wristwatch-style digital camera, released

 

August 2000

Leasing alliance formed with Diamond Lease Company Limited

 
 

August 2000

EDIFICE metal watch brand released

 
 

July 2001

Operations start at Casio Singapore, established as a sales company through integration of the Singapore site

 

August 2001

Casio Micronics Co., Ltd. listed on the JASDAQ exchange

 

November 2001

G.BROS. GV-10, a waterproof, dustproof, and shock-resistant digital camera, released

 

 

January 2002

Casio Europe G.m.b.H. established in Germany to serve as Casio's European headquarters

 
 

April 2002

Deliveries to au by KDDI begin for that network's first camera-equipped GPS cellular phone, the Casio A3012CA

 
 
 

September 2002

Tie-up with Flextronics for consignment production of electronic devices

 
 

November 2002

G-"The G," the ultimate G-SHOCK watch, released

 
 

March 2003

EXILIM ZOOM EX-Z3 digital camera featuring a slim profile and zoom lens released

 

March 2003

The Japanese industry's first electronic dictionary models with dictionaries other than English (German, French, and Chinese) released

 
 

February 2003

Joint venture formed with Mitsubishi Corporation to establish a sales company in China: Casio (Shanghai) Co., Ltd. (Operations commenced in April 2003)

 
 

June 2003

Charter of Creativity for Casio established (made public in December)

 

July 2003

Tie-up formed with LG TeleCom, and cellular phones released in the South Korean market

 
 

November 2003

Hachioji Research and Development Center completed

 

November 2003

PCP-50 digital photo printer for making personalized postcards including addresses and text released

 

December 2003

XJ-350 projector for business use released

 
 

April 2004

Casio Hitachi Mobile Communications, a joint venture company founded with Hitachi, Ltd. to develop cellular phones, established

 
 

October 2004

Casio Entertainment, Inc., a digital content production company, established

 
 

November 2004

OCEANUS and LILANA solar-powered radio-controlled watches with full metal case released

 

January 2005

Wafer level package (WLP) technology licensed to Renesas Technology Corporation

 

June 2005

Casio Electronic Technology (Zhongshan) Co., Ltd. established in Guangdong, China (Operations commenced in January 2006)

 

July 2005

G'zOne TYPE-R flip cellular phone with water and shock resistance released

 

November 2005

First Casio World Open Golf Tournament held in Kuroshio Country Club in Kochi Prefecture

 

February 2006

W41CA slim cellular phone featuring a wide QVGA LCD released

 

March 2006

Casio Benelux B.V. established in Netherlands (Operations commenced in April)

 

April 2006

Taiwan Casio Marketing Co., Ltd. integrated into Casio Taiwan Co., Ltd. (production transferred to Shenzhen and Hong Kong in April 2009)

 

May 2006

EX-Z1000, a stylish digital camera with a 10.1 megapixel CCD, released

 

June 2006

Casio Scandinavia AS, a local sales company, established in Norway (Operations commenced in July)

 

August 2006

Casio Espana S.L., a local sales company, established in Spain (Operations commenced in September)

 

September 2006

Casio Latin America, Inc., a local sales company, established in the U.S. (Operations commenced in November)

 

October 2006

G'zOne TYPE-V, a waterproof, shock-resistant mobile phone, supplied to Verizon Wireless in the U.S.

 

November 2006

Casio (Guangzhou) Co., Ltd., a local sales company, established in Guangdong, China

 

December 2006

Worldwide calculator sales reach total of 1 billion units sold

 

July 2007

CXD NEXT CO., LTD., established as a joint venture with NTT DOCOMO

 
 

February 2008

Casio Mexico Marketing, S. de R. L. de C.V. established in Mexico (Operations commenced in April)

 
 

March 2008

EX-F1 digital camera with world's fastest burst shooting performance released

 
 

June 2008

Radio-controlled G-SHOCK GW-9200 with the world's first Multi Band 6 technology released

 

June 2008

Casio Micronics' film device business transferred to Hitachi Cable

 

July 2008

Casio develops new Tough Movement boasting slimness and high performance for its radio-controlled watches

 

July 2008

Limited Liability Company CASIO established in Russia (Operations commenced in October)

 

July 2008

Casio Brasil Comercio De Produtos Eletronicos Ltda. established in Brazil (Operations commenced in January 2009)

 

August 2008

Casio Micronics becomes a wholly-owned subsidiary through a stock swap

 

October 2008

Deliveries of 830CA mobile phone begun to Softbank Mobile

 

January 2009

EX-Z400, the world's first digital camera capable of making composite moving images, released

 

February 2009

Casio Italia S.r.l., a local sales company, established in Italy (Operations commenced in April)

 

August 2009

Casio Human Systems Co., Ltd. established

 

December 2009

EXILIM G EX-G1, the world's thinnest shock-resistant digital camera, released

 

December 2009

G-SHOCK shock-resistant watches reach total of 50 million units shipped worldwide

 
February 2000
G'zOne C303CA cdmaOne-compatible cellular phone
Delivered unprecedented product "toughness" for a wide range of usage situations

The G'zOne was a cellular phone with water and shock resistance. In 2000, Casio was the last of various Japanese manufacturers to enter the cellular phone market. Therefore, in order to make use of its unique strengths, just like it did for G-SHOCK, Casio pursued development based the concept of offering thorough product "toughness" and enhancing basic usability as much as possible. Casio's first mobile phone, the C303CA, gained popularity especially among young people, because it could be used with confidence in the rain, or under other harsh conditions found in everyday life. Because of its "toughness" that made it hard to break, the G'zOne was perfect for all kinds of conditions. As a result, the product was also appreciated by people spending a lot of time outside, including outdoor enthusiasts, motorcycle delivery drivers, and construction workers, and was used for many years.
November 2001
WVA-300 solar-powered radio-controlled watch
Powered by light and continually showed the correct time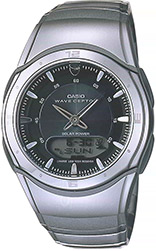 The Wave Ceptor WVA-300 was a solar-powered radio-controlled watch that could automatically sync itself to the correct time by receiving standard time radio signals. In other words, wearers could always know the correct time without having to adjust the watch manually. Since it was also solar powered, it offered the convenience of not needing battery replacement (except for eventual replacement of the rechargeable battery). Casio had long been working on improving basic watch performance including accuracy, battery life and ease of use. It had been pursuing this since the release of the Casiotron, which offered an automated calendar, based on a development concept for a fully automatic watch. The same was true for radio-controlled watches. After Casio's first radio-controlled watch, the FKT-100L, released in Europe in 1995, came the WVA-300 released worldwide in 2001, and The G, launched worldwide as a solar-powered radio-controlled G-SHOCK the following year. In 2008, Casio released a G-SHOCK with the world's first Multi Band 6 radio wave receiver system. Casio has continually pursued radio-controlled watches that wearers can use with confidence.
June 2002
EXILIM EX-S1 card-size digital camera
Epitomized the concept of less is more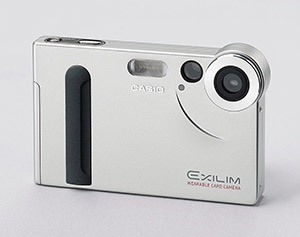 The EXILIM EX-S1 was a digital camera developed based on the novel concept of a "wearable card camera" that is with you wherever you go. By the early 2000s, the transition from film to digital cameras was in full progress. Casio developed the EX-S1 as part of its continual pursuit of value through digital technology. The camera's most remarkable feature was its card size for amazing portability, and its instant startup enabling photo-taking just one second after activation. It was not equipped with a zoom, and the focus was fixed. By limiting the number of pixels to 1.24 million, and installing only the essential functions, the emphasis was placed on compact size and usability. This approach of pursuing the value inherent to digital cameras also supported subsequent product development. Released in 2008, the EX-F1 provided ultra-fast continuous shooting of 60 images per second, and offered the joy of capturing moments that cannot be seen with the naked eye. Two years later, the EX-ZR10 was released and offered High Dynamic Range (HDR), based on high-speed continuous shooting. This feature was only possible with digital technology and offered the fun of creating and sharing artistic photographs. After releasing these products, Casio focused on developing cameras with high-speed image processing engines, and went on to deliver models that encouraged spontaneous image capturing and that continued to provide enjoyment even after photos had been taken.
October 2003
Privia PX-100 digital piano
A serious instrument with style and affordability/p>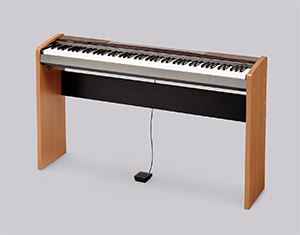 The Privia PX-100 was a digital piano that closely resembled the feel and tone of a grand piano while being compact enough to fit in almost any location. The name "Privia" was coined by blending the words, "Private Piano." It had a stylish design targeting young women, and was named based on the concept of a digital piano that can fit in a bedroom or small apartment. Casio had previously released two full-fledged digital pianos (AP-7 and AP-5) in 1991, and developed them as part of the CELVIANO series. In 2003 however, fully-equipped electronic pianos like a CELVIANO usually cost over 100,000 yen. The PX-100 offered a slim profile, a heavier touch from keys in the bass range and a lighter touch from keys in the treble range, and an expressive timbre that carefully reproduced the sound of a concert grand piano. The result was a digital piano with improved quality, yet at a price and weight about half that of conventional models, which became widely popular. In 2015, the CELVIANO Grand Hybrid GP-500BP and GP-300BK, which had a sound source jointly developed with C. Bechstein, were released for pianists who wanted an even higher level of piano performance. By producing electronic pianos that meet various needs, Casio has been expanding the range of people who enjoy performing music. This includes children who want to try learning piano, adults who want to discover the fun of playing piano, and also those who are serious about becoming performers.
March 2004
EX-word XD-L4600
A tough shock-resistant electronic dictionary made for high school students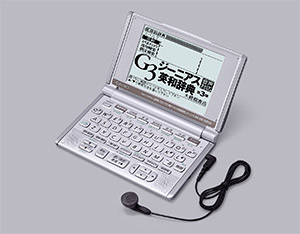 The XD-L4600 was an electronic dictionary developed mainly for high school students in Japan, and it featured rugged, shock-resistant construction. The motivation behind its development was a desire to create an electronic dictionary that high school students could use with confidence. The history of the EX-word series of electronic dictionaries began with the XD-500 in 1996. However, it did not become popular with high school students until around 2001, when the Classical Japanese dictionary model was released. Unfortunately, a significant number of high school students reported accidentally damaging their dictionaries. It turned out that high school students tended to handle their electronic devices more roughly than anticipated. Casio needed to make an electronic dictionary better suited for teenagers that was shock-resistant and hard to break even if dropped. Consequently, the robust XD-L4600 was designed with Totally Advanced Force Control Technology (TAFCOT). In 2005, the following year, Casio came out with the XD-LP4600 electronic dictionary. It featured a massive number of dictionary entries with an English native speaker's correct and natural pronunciation of the English words, using Casio's original True Voice technology. Casio further advanced the field of electronic dictionaries by aiming to deliver products ever more useful for learning, while maintaining toughness.
August 2007
E-2500 and TK-2500 Internet-ready registers
Enabled streamlined sales management operations based on a concept that anticipated the cloud era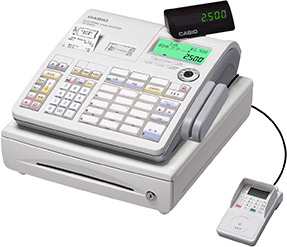 The TE-2500 and TK-2500 were Internet-ready electronic registers that could be connected directly to the Internet thanks to a built-in Virtual Private Network (VPN) function. Direct access to the Internet enabled shop owners to immediately grasp the latest sales information online from one or more shop locations. Unlike the POS system at the time, which was used by large retail chains, by eliminating the need for a computer to perform tabulation, or a dedicated data communication line, the new models made it possible to streamline sales management operations for multiple stores. As a result, the TE-2500 and TK-2500 became popular with small and medium-sized retailers and restaurants that were not large enough to need a POS system. The concept of supporting store efficiency had not wavered since Casio's first electronic register, the Σ-50ER, released in 1976. The TE-2500 and TK-2500 were equipped with a function to handle information in a cloud-like manner, even before the concept of cloud computing became mainstream, and they helped to streamline sales management operations.