Company History
Product History
2010s
April 2010

Control of TFT LCD display business transferred to Ortus Technology Co., Ltd., of which Toppan Printing is a co-parent company

 
 

June 2010

Mobile phone business integrated into NEC CASIO Mobile Communications, Ltd.

 
 

November 2010

EX-H20G digital camera with hybrid GPS released

 
 

November 2010

EX-ZR10 digital camera with HDR art function released

 

January 2011

Imaging Square network service established

 
 

April 2011

G'zOne COMMANDO smartphone, featuring water and shock resistance, released on Verizon Wireless

 
 

August 2011

Casio Latin America S.A. established as a logistics management company for South America (central warehouse in Uruguay begins operation in January 2012)

 
 

October 2011

WLP-related business transferred to Teramikros, Inc.

 

October 2011

Casio Marketing Advance Co., Ltd. established

 

October 2011

US-based Casio Latin America, Inc. integrated into Brazilian sales company, Casio Brasil Comercio De Produtos Eletronicos Ltda.

 

December 2011

VX-100 retail support terminal, offering the ability to manage customer, reservation and sales data with one unit, released

 

January 2012

XD-D2800 electronic dictionary for elementary school students released

 

March 2012

G-SHOCK GB-6900, linkable with the wearer's smartphone using Bluetooth V4.0, released

 

April 2012

Operations commenced at new watch plant in Nakhonratchasima Province, Thailand

 

April 2012

The memopri label printer, able to print a variety of beautiful labels, released

 

March 2013

Casio Middle East FZE, a local sales company, established in Dubai, United Arab Emirates (Operations commenced in October 2013)

 

June 2013

Casio Art digital painting with 3D effects released

 

July 2013

Casio Signage, a line of small digital signage tools for retail sales promotion, released

 

August 2013

Casio Malaysia, Sdn. Bhd., a local sales company, established in Malaysia (Operations commenced in January 2014)

 

November 2013

Stamp maker pomrie released for users to create their own custom stamps

 

January 2014

Sales functions of Casio (Guangzhou) Co., Ltd. transferred to Casio (Shanghai) Co., Ltd., and the company begins operations as Casio (China) Co., Ltd.

 

April 2014

fx-FD10 Pro civil engineering survey calculator with rugged performance released

 

July 2014

Casio Marketing (Thailand) Co., Ltd., a local sales company, established in Thailand (Operations commenced in September 2014)

 
 

August 2014

ClassWiz, a scientific calculator offering localized language display on a high definition LCD, released in China

 
 

September 2014

EX-FR10 digital camera, with camera module separable from the LCD-equipped controller module, released

 

December 2014

Casio Timepiece (Dongguan) Co., Ltd., a production company, established in Guangdong, China

 

June 2015

Kazuhiro Kashio appointed president of Casio

 

June 2015

Cloud service for doctors, providing dermoscopic images that allow further study in the detection of skin cancer, launched

 

September 2015

The "joy study," a pocket-sized English conversation learning device, released

 

September 2015

CELVIANO Grand Hybrid digital piano with three historic grand piano sounds released

 

September 2015

S100 premium calculator with enhanced readability and operability released

 
 
 

April 2016

EX-word RISE, an English conversation learning device showing learning progress, released

 
 

June 2016

Total worldwide sales of electronic dictionaries since the release of the EX-word reach 30 million

 

July 2016

Casio acquires full ownership of Ripplex Inc., which develops and provides service for photo management applications, etc.

 

August 2016

Casio Electronics (Shaoguan) Co., Ltd., a production company, established in Guangdong Province, China

 

December 2016

Manabi-UP Communications Co., Ltd., which operates an English proficiency testing service in collaboration with Obunsha Co., Ltd., and The Mainichi Newspapers Co., Ltd., established

 

April 2017

JY-L04 and JY-L05 digital learning devices released to help Japanese hospitality workers improve their English conversation skills

 
 

August 2017

Reached total of 100 million G-SHOCK shock-resistant watches shipped

 
 

October 2017

Production & Purchasing Division re-established as the Production Headquarters in order to strengthen Casio's global production system and innovate of production technology

 
 

April 2018

G-SHOCK GMW-B5000, the first metal model in the 5000 series, which inherited the DNA of the first G-SHOCK, released

 

April 2018

Business Strategy Headquarters established and business unit system introduced (Timepieces, Language Education, Educational Scientific Calculators, Musical Instruments, DPJ & VI, and Systems)

 

April 2018

Dedicated watch plant completed at Yamagata Casio Co., Ltd.

 

August 2018

Operations commenced for automated watch assembly line at Yamagata Casio

 
 

February 2019

Privia PX-S1000 and S3000 stylish digital pianos, featuring the slimmest depth dimension in the industry, released

 
April 2010
Green Slim Projector XJ-A145
World's first projector equipped with a new mercury-free, high-brightness light source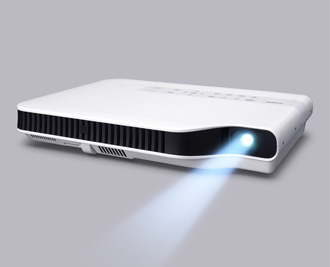 The Green Slim Projector was the world's first mercury-free, high-brightness data projector. Being mercury-free had two benefits. First, there was no need for users to dispose of harmful mercury lamps, and because the new light source had a long lifespan, it reduced the environmental impact caused by conventional lamp replacement. With the mercury-free technology, start-up was also faster, and there was no need to let the projector cool down after use. The second benefit was that the Green Slim Projector offered the value of being always ready to use, like a television. In 2010, it was commonly thought in the industry that a high brightness of over 2,000 lumens was not feasible without using a mercury lamp. Casio, which entered the business projector market in 2003, also used mercury lamps until it developed the Green Slim Projector. Yet Casio aspired to develop a next-generation projection light source. This was based on the concept of "clean & green," and Casio sought to achieve both a mercury-free solution and high luminance. Casio succeeded in developing a unique hybrid light source combining laser and LED technologies, delivering both environmental performance and high brightness.
April 2011
EXILIM EX-TR100
A freestyle camera that evolved into a dedicated selfie device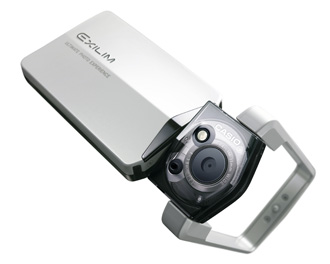 The EXILIM EX-TR100 was a digital camera developed with the concept of freestyle shooting. Its most outstanding feature was a movable frame design that clearly set it apart from previous digital cameras. The frame could be rotated 360 degrees around the lens and screen, and the screen could also swivel 270 degrees. In addition to being extremely portable, it enabled users to capture photos and movies by positioning the camera on a desk or wall, and could be held many different ways. It was first was released in North America as a model named TRYX. After a popular Hong Kong fashion model uploaded photos she had taken of herself with the EX-TR100 to a social media site, it began to be known as a camera that could capture beautiful face shots. It subsequently became a big hit among women in China and Southeast Asia, and was described in Chinese as a "goddess selfie device." After that, the EX-TR100 was developed into the TR series of cameras designed for selfie taking. Such unique product development originated from Casio's desire to expand the way people enjoy digital cameras — a motivation that had remained since the launch of the QV-10. The EXILIM EX-FR10 was then released in 2014. It was a camera where the lens and screen could be completely separated, overturning conventional camera positioning when taking a picture. This new form of freestyle shooting further expanded the way a camera could be enjoyed.
July 2014
G-SHOCK GPW-1000
Provided accurate timekeeping even in harsh environments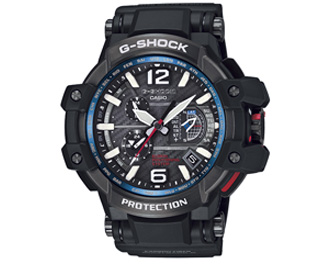 The G-SHOCK GPW-1000 was a wristwatch equipped with the world's first hybrid time acquisition system that could perform time syncing using both Multi-Band 6 radio and GPS satellite signals. The most outstanding feature of this product was its ability to provide the exact time even in some of the harshest environments around the world. A conventional radio-controlled watch automatically syncs to the correct time using standard radio signals that include time information. The GPW-1000 displayed the correct time anywhere in the world using an additional and complementary time acquisition system that received GPS signals from satellites. This meant it worked even in regions outside the reach of terrestrial time signal transmitters. Also, by incorporating high-precision map data into the watch, it could use GPS positioning information to determine the wearer's time zone and daylight saving status in order to display the correct time. Earlier, Casio had released the world's first watch with built-in GPS, the PRT-1GPJ, in 1999. In addition to being equipped with location positioning and other features for outdoor use, it could display the correct time by receiving GPS signals. The technology at that point, however, had issues such as device size and battery life. The GPW-1000 became the culmination of Casio's determination to enhance the lives of customers by ensuring they could always know the correct time no matter where they were.
March 2016
Smart Outdoor Watch WSD-F10
Made for enjoying outdoor activities with a tough information device on your wrist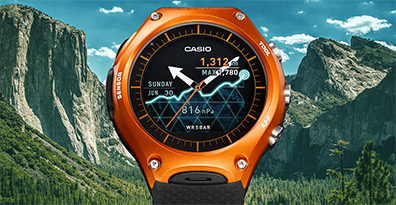 The Smart Outdoor Watch WSD-F10 was the optimal wrist device for outdoor activities. It was waterproof to ensure performance during water activities or in the rain, and it even met a U.S. military procurement standard for withstanding drops and vibration. Its best feature was its design for outdoor use. In situations where it is difficult to use a smartphone, the need for a wrist device increases. In addition to various apps that are useful in outdoor pursuits such as trekking, cycling, and fishing, the watch also came installed with original apps to measure changes in the natural environment or the level of the wearer's physical activity using built-in sensors. Since it utilized the Android Wear operating system, wearers could also add apps to further enhance functionality for different outdoor situations. Since the 1980s, Casio had developed many multifunction digital watches that have provided information for exercise and outdoor activities. These watches include the JP-100, which supported joggers with a pulse measurement feature, and the BM-100, which could forecast the weather by using a sensor to detect changes in barometric pressure. Inheriting Casio's accumulated expertise, the WSD-F10 provided wearers with a wrist device for fully enjoying outdoor life.
May 2017
G-SHOCK GPW-2000, the world's first watch equipped with a 3-way time sync system, released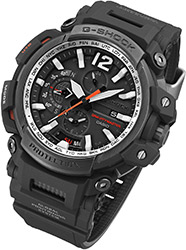 The G-SHOCK GPW-2000 was the world's first watch to be equipped with three time acquisition systems, thanks to the Connected Engine 3-Way module. The watch not only received standard time signals from terrestrial transmitters and signals from GPS satellites, but also automatically performed updates of summer time and time zone information via a smartphone connected to the Internet. It was constructed using a screwless system where the band is secured with a fine resin shaft cover and parts made of fine resin containing carbon fiber. By avoiding the use of screws that could be shaken loose by vibration, this band delivered even tougher performance. The watch always displayed the exact time and was tough and hard to break — this kind of reliability is the product value that Casio has consistently pursued.