Company History
Product History
1990s
April 1990

Casio Electronic Devices Co., Ltd., a device sales company, established

 

August 1990

Kochi Casio Co., Ltd., a production company, established in Nankoku City, Kochi (Operations commenced in July 1991)

 

October 1990

Casio Malaysia, Sdn. Bhd., a production company, established in Malaysia (Operations commenced in April 1992)

 

March 1991

Celviano digital piano, equipped with a CD player, released

 

April 1991

Page Presto high-speed page printer released

 

May 1991

Stake in Asahi Corporation acquired, and production sites outside Japan expanded

 

October 1991

Singapore office opened

 

 

December 1991

DKW-100 databank watch with built-in Kanji dictionary released

 
 

February 1992

BP-100 wristwatch type blood-pressure monitor released

 
 
 

April 1992

Casio Information Systems Co., Ltd. established

 

July 1992

CV-1 lightweight micro LCD TV in cigarette-packet size released

 

November 1992

JD-300 digital diary for kids released

 

April 1993

New Casio European Headquarters established in London

 

June 1993

Casio Electronics (Zhongshan) Co., Ltd., a production company for scientific calculators and digital diaries, established in Guangdong, China
(Operations commenced in 1995)

 

October 1993

Z-7000 personal digital assistant (PDA) released in North America

 

December 1993

Office opened in Moscow, Russia

 
 
 

September 1994

ML-1 electronic keyboard with key lighting system released

 

October 1994

Post Land HV-50 home postcard printer released

 

November 1994

FV-600 LCD projection TV released

 

 

January 1995

Outdoor watch PRO TREK released

 
 

March 1995

Casio Electronics (Zhuhai) Co., Ltd., a production company for electronic keyboards, established in Guangdong, China

 
 
 

March 1995

The MR-1, a radio that receives and displays text, released

 
 

June 1995

FKT-100L databank and radio-controlled watch released in Germany

 

June 1995

Casio Electronics (Guangzhou) Co., Ltd., a timepiece production and sales company, established in Guangdong, China

 

June 1995

Casio's first car navigation system, the NS-600, released, able to receive FM multiplex broadcasting

 

 

September 1995

Taiwan CASIO RISING Marketing Ltd. established in Taiwan as a joint-venture sales company (becoming a wholly owned subsidiary in August 2005, as Taiwan Casio Marketing Co., Ltd.)

 
 

November 1995

Casio Electronics (Shenzhen) Co., Ltd., a joint venture company for designing timepieces and procuring timepiece parts, established in Shenzhen, China

 

January 1996

Casio Bharti Mobile Communications Ltd. (now Casio India Co., Limited), a joint venture production and sales company for pagers, established in New Delhi, India

 

 

July 1996

N4 high-speed/low-running-cost color page printer for A3 size paper released

 

 

July 1997

Japanese version of CASSIOPEIA handheld PC released in Japan

 
 

August 1997

FKT-200LJ radio-controlled watch released in Japan

 
 

October 1997

Service Division spun off to establish Casio Techno Co., Ltd.

 

January 1998

Head office moved to Hatsudai in Shibuya, Tokyo

 

June 1998

CASSIOPEIA E-10 color palm-size PC released in the U.S.

 

June 1998

PC Cross computer-linkable watch released

 
 

November 1998

CASSIOPEIA FIVA (MPC-101), mini laptop PC with Windows98, released

 
 

June 1999

Company Officer System implemented

 
 

June 1999

Casio Soft Co., Ltd. established through the integration of Casio System Engineering Co., Ltd. and Casio SBC Co., Ltd.

 

June 1999

SATELLITE NAVI, the world's first GPS watch, released

 

July 1999

ERP system introduced company-wide

 
 

August 1999

SHEEN metal analog watch brand for women released

 
 

September 1999

SCM system begins implementation

 
November 1991
Name Land KL-1000 label writer
Made organizing things easier with the power of electronics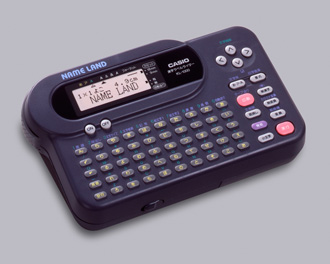 The Name Land KL-1000 was a compact kanji label writer used to easily create labels. Previously, the market offered stamp-type label writers operated by manually turning dials. In 1988, a thermal transfer label writer appeared that could print kanji characters, but text input followed the stamp-type method. Given this situation, the KL-1000 was developed with the aim of allowing people to easily create beautiful labels that included kanji. In addition to the keyboard that made it easy for users to input characters, a specially developed label tape eliminated the need for a protective laminating layer, which had been essential for thermal transfer label writers, thereby improving ease of application by making it thinner. The label tape's maximum width of 18 mm was perfect for labeling videotapes, which were popular in homes at the time, and many customers used the KL-1000 to make labels for their VCR tapes. The KL-1000 met the user need to organize things more easily through the convenience of electronic technology.
March 1992
AZ-8 and SL-300LH arithmetic calculators for elementary school students released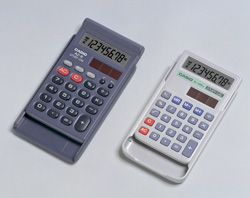 Teaching guidelines in Japan were revised in 1992, and calculators started to be used in math classes for fifth and sixth graders in elementary schools across Japan. The idea was to have students develop a firm grasp of basic arithmetic in the lower grades, and then start using calculators in the upper grades, which would allow them to spend more time learning concepts and less time doing calculations on paper. Since the AZ-8 and SL-300LH were introduced in schools as teaching devices, the decimal point display was made larger for the young pupils to read, and a protective hard case was added, among other special features. The following year, in 1993, the AZ-40F was released. Since it could display and calculate fractions using the same notation as shown in textbooks, it was welcomed by both educators and students.
March 1994
NICOTO NP-500 pager
Enabled two-way communication between pagers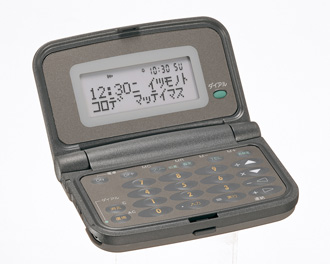 The NICOTO NP-500 brought further innovation to the pager, which was a popular device in the 1990s for receiving messages wirelessly. Until 1994, pagers could only receive numeric messages, specifically, a phone number to call back. The number was input by the sender using a Touch-Tone landline phone, and some users devised a way to send messages using number goroawase (in Japanese, clever pronunciation of a set of numbers can sound similar to a word or phrase: e.g. 0840 = Ohayo or Good Morning). However, this only worked for people who knew how to read them, and it did not work for more complex messages. Addressing this situation, the NICOTO NP-500 was the first pager in the industry to be equipped with a function that could transmit and receive not only numbers but also katakana and alphabetic text. The sender would compose a message on the NP-500, such as "Call the office right away," and hold the pager to the mouthpiece of the Touch-Tone phone and press a button. Then, the pager would convert and play the message as Touch-Tone signals, so that it could be received and decoded by the destination NP-500. By realizing two-way communication between pagers, the NICOTO NP-500 became a precursor to the text messaging services that arrived with the popular Personal Handy-phone System (PHS) in Japan, and with mobile phones around the world.
April 1994
Operations begun at TFT LCD factory in Kochi (completed in August 1993)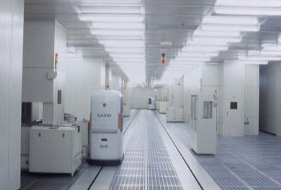 As the "face" of a product, liquid crystal displays can be the key to a product's success. In the early 1990s, Casio was producing TN and STN LCDs; however, demand was increasing for products using TFT LCDs, which enabled sharper and clearer images such as those needed for LCD TVs. As a result, Casio decided to start producing its own TFT LCDs, and completed a new factory next to the existing Kochi factory in 1993. Beginning the following year, the factory launched the industry's first integrated production line for TFT LCD devices. Since that time, Casio has expanded its production lineup of small and medium TFT LCDs, and gained a great deal of technical expertise in the latest production systems, including mounting module and high-level production technology. In January 2002, Casio began to operate a second TFT line at a new plant in Kochi built to meet the heavy demand. The TFT LCDs produced here are being used all over the world for digital cameras, cellular phones, portable digital assistants (PDAs), video devices and more.
December 1994
Baby-G shock resistant watch for women released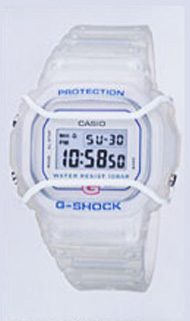 The G-SHOCK shock-resistant wristwatch, first released in 1983, first gained popularity outside Japan. The watches were re-imported and became popular in Japan, too, and then G-SHOCK became such a huge hit that it was hard to meet the demand. Pushed by the popularity of the G-SHOCK, other watch companies came out with their own digital watches in the solid and tough-looking style, redefining a product that until then had been driven only by functionality. In 1994, Casio came out with the Baby-G series of shock-resistant watches for women. The first product in the series, the DW-520, not only had the usual G-SHOCK shock resistance, but was also a cute lady's size digital watch featuring pop colors and surfing design motifs that were popular with teen girls at the time.
Subsequent Baby-G models were developed with different functions and themes, and in 2014 the design was changed to target women in their 20s and 30s. The brand logo was also updated to all caps: BABY-G.
March 1995
QV-10 digital camera
LCD screen unlocked the fun of digital photography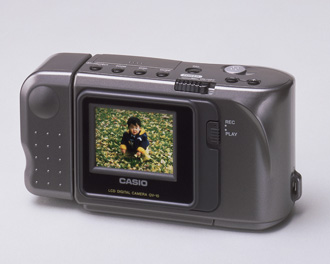 The QV-10 was the world's first consumer digital camera with an LCD screen. With this revolutionary product, Casio created new value for the digital camera. By removing the optical viewfinder and replacing it with an LCD, Casio transformed the digital camera—which at that time still required that photos be printed to be seen—into much more than just an alternative to the conventional film camera. In addition to allowing captured images to be immediately viewed on the LCD, the camera also had a port for outputting the photos to a TV or VCR for viewing or recording. Images could also be transferred to a computer for processing and storage. By enabling the digital camera to be used in a variety of ways that suited the multimedia era, Casio had come up with a new way to enjoy photo-taking. The QV-10 became a hit product, selling 200,000 units in a year. Leading up to the development of the QV-10 was the VS-101 electronic still camera released in 1987. Developed based on the concept of offering a visual communication tool, the VS-101 was designed to expand the enjoyment of photography by allowing people to capture still images, store them on a floppy disk, and play them back as an analog video signal. This enabled the photos to be viewed on a television and enjoyed by many people. Developed using digital technology, the QV-10 inherited this concept, allowing it to pioneer the digital camera market.
July 1995
PH-100 series PHS mobile phone released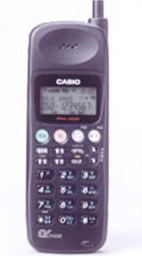 PHS is a low-cost, easy-to-use mobile phone service that was launched in Japan in July 1995. The three corporate groups that provided PHS service in Japan at that time were NTT Personal, DDI Pocket, and Astel. Casio released the PH-100 for use on DDI Pocket networks. In addition to the inherent PHS features of compactness, lightweight, and long battery life, the PH-100 had a convenient voice mail feature built right into the unit. It also featured unique Casio functions such as memo recording, voice alarm, and an AI telephone number directory. The release of the PH-100 marked Casio's first venture into the PHS mobile phone market. From these beginnings, Casio went on to develop new multimedia cellular phone terminals that not only handled voice but also text and images.
June 1996
DQD-10 radio-controlled clock released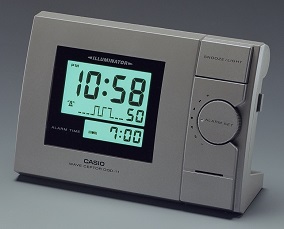 Radio-controlled timepieces always show the correct time by receiving long-wave radio signals carrying standard time information. In 1995, Casio developed and delivered its first radio-controlled timepiece, the FKT-100L combination watch, to the German market, which already had time signal broadcasting. The following year, Casio released the DQD-10 clock model in Japan. At that time, the long-wave time signals in Japan were just test broadcasts from Sanwa-cho, Ibaraki Prefecture. However, the product gained attention as a clock that never needed to be reset. Then, on June 10, 1999, official broadcasting of 40 kHz time signals started from Mount Otakadoya, Fukushima Prefecture. Accordingly, Casio began full-scale development of various radio-controlled clock and watch models. In October 2001, another standard radio transmitter, on Mount Hagane, on the southern island of Kyushu, began broadcasting. Time signals could then be received with reliability anywhere in Japan and radio-controlled timepieces were widely adopted.
November 1996
CASSIOPEIA A-10 and A-11 handheld PCs
Made information more portable than ever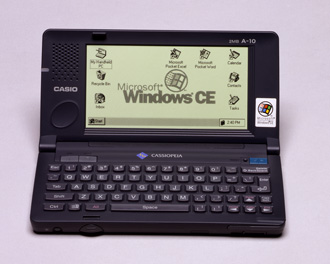 The CASSIOPEIA A-10 and A-11 were the first handheld PCs that Casio jointly developed with Microsoft and released in North America. The handheld PC was a portable information device standardized by Microsoft. In line with the personal computer era that took off with the arrival of Windows 95 in 1995, Casio developed CASSIOPEIA using Windows CE. The concept behind the product development was portable information. This idea had already existed in various Casio products. For example, the electronic organizer PF-3000 released in 1983 could store information such as telephone numbers and alphabetic text. In 1987, Casio released the electronic organizer DK-1000 capable of handling kanji characters. The Databank CD-40 wristwatch, released in 1984, was equipped with a feature that could store 10 telephone numbers. Casio was already working to advance the watch as an information device on the wrist. In 1993, the Z-7000 personal digital assistant (PDA) was launched. These were the developments that led up to the CASSIOPEIA.